MDF
General Info
MDF (Medium Density Fiberboard) is produced by thermomechanically obtaining fiber from wood or other lignocellulosic raw materials, drying such fibers to a certain degree of humidity after adding synthetic adhesives, and finally pressing (forming) a sheet at a certain temperature under pressure. • MDF stands for "medium-density fiberboard."
Usage Areas
USAGE AREAS OF MDF
• MDF is an alternative to solid wood in many applications.
• Membrane and acrylic covers are made of MDF that is suitable for milling.
• It is used as a base under decorative foil, PVC, and wood coatings.
• The product can be used in all living spaces, including kitchens and bathroom cabinets, bedrooms, and offices.
• It is suitable for use as a door panel.
• It can be used in the production of profile and drawer front parts.
• Thanks to its high surface density and low roughness, lacquered or faced (single or double side) versions can be used by manufacturers as a ready-to-use product.
Advantages
ADVANTAGES OF MDF
• While the fibers are dense on the lower and upper surfaces, the density decreases in the middle. • It is suitable for machine cutting. The edges are shatter-proof.
• No gaps form among the particles. It can be processed.
• It can be cut, drilled and milled without errors with CNC machines. Its surface is homogeneous and smooth.
• It can be painted and varnished. It is also suitable for patterns and prints. The product serves as a good base for foil and wood coating
Particle Board
General Info
Particle Board (Chipboard), is produced by mixing chips of wood or lignified lignocellulosic plants with synthetic resin adhesives, placing them in layers (bottom, middle, top), and finally pressing (shaping) them under a high temperature and pressure.
Usage Areas
USAGE AREAS OF PARTICLE BOARD
• Particle boards are suitable for use in all living spaces as furniture such as kitchen and bathroom cabinets, office furniture, etc.
• They bring their own advantages when used as a trade show stand.
• They are suitable for the packaging industry.
• They can be used in the interior of buildings to construct sections, doors, and wallboards.
WARNING! Unlike MDF, the surface is not suitable for CNC processing (grooving, shaping). It is advantageous to use in the production of assembled/disassembled furniture.
Advantages
ADVANTAGES OF PARTICLE BOARD
• Particle boards consist of a durable middle layer and smooth surfaces.
• They are perfect for a variety of laminate applications, and their bodies, which have a low formaldehyde content, make them ideal for a large number of other works.
• Other characteristics include a smooth surface, a light-colored wood effect, high surface durability, low dust content, high stability, great lamination characteristics, and a square shape, ensuring clean and particle-free processing.
• Suitable for furniture, interior decoration and all kinds of coatings.
• Melamine film can be applied.
Compact Panel
General Info
Compact Panel is a flagship ≥1,000 kg/m³ high-density compact panel that pioneers the wood panel industry and takes the conventional MDF a step further.
The homogeneous black fiber content of Compact Pane lenables easy application in woodworking machines including routers and CNCs.
Compact Panel is highly resistant to physical and mechanical elements
It is manufactured at E0 (Zero Emission) standards.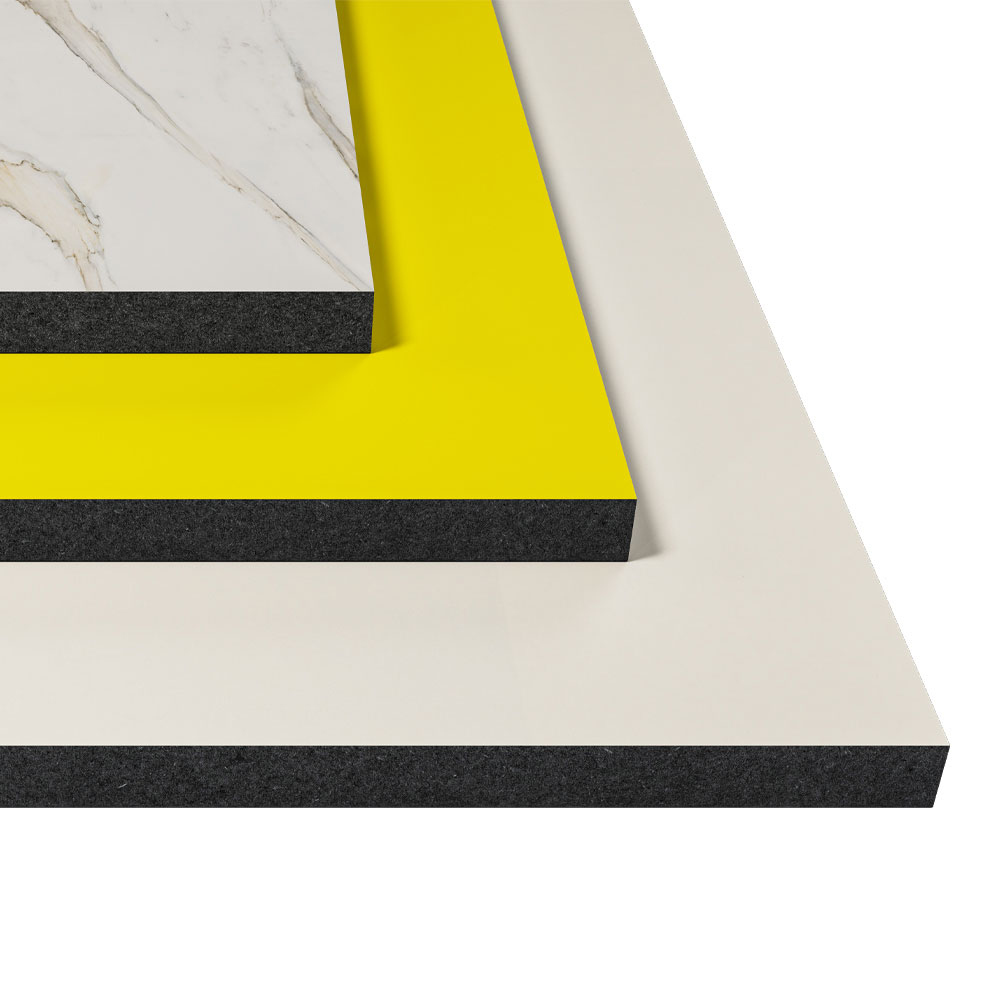 Compact Panel production uses sustainable forest resources.
Usage Areas
It is suitable for decorative use in crowded shared spaces, such as schools, hospitals, cubicles, and shopping malls.