How to Decorate an Open Kitchen?
The open kitchen, or open-plan kitchen, is becoming more and more popular every day. Open-plan kitchens create an impression of spaciousness, which is particularly advantageous for smaller houses.
Plus, you will not have to awkwardly leave your guests alone to do chores in an open-plan kitchen, which is just one of many advantages. This makes open kitchens a joy for those who enjoy entertaining guests regularly.
Some still prefer traditional closed kitchens, despite the advantages, popularity, and modern aesthetic of open-plan kitchens. Smart countertop layout and correct decoration choices will make your open kitchen stand out in your home. If you want to know more about decorating an open kitchen, we have the perfect suggestions for you.
Why Does Open Kitchen Decoration Matter?
The open-plan kitchen unifies the kitchen and the living room, leaving them separated only by a countertop. The kitchen does not have a wall or a door but is simply a part of the living room.
Open kitchens can be organized in many different manners. Like the U-shape and the L-shape kitchen layouts, the island kitchen is very popular with consumers.
As the open kitchen is intertwined with the living room, the most frequently used room in the house, decoration is essential. In open-plan kitchens, aesthetics are as important as functionality.
As the kitchen is integrated into the living room, the decoration style in both of these rooms must be coherent. For this reason, when decorating the American kitchen living room, opting for colors and themes that complement each other looks both more stylish and more harmonious.
Decoration Suggestions for Open Kitchens
An open-plan kitchen goes well with both a smaller and simpler house and a spacious living room. Decorating your open kitchen wisely will create both a practical and functional space and an elegant look.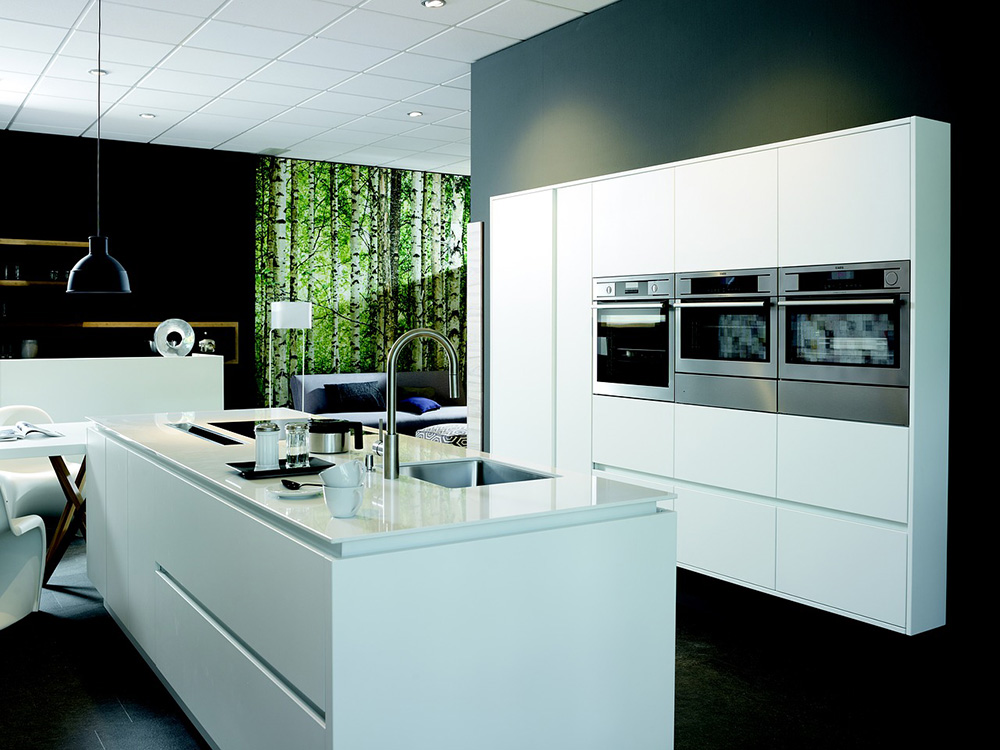 If you are looking for decoration ideas for your open kitchen, take a look at these suggestions to achieve a both stylish and functional kitchen:
As open kitchens already feature striking layouts, try to avoid busy-looking or overly flamboyant designs when decorating your space.
Too many kitchen accessories will create a cluttered and suffocating impression. For this reason, it is best to opt for a few simple, stylish pieces to maximize impact.
If your kitchen is on the smaller side, it is recommended that you employ lighter colors on walls to create the illusion of spaciousness.
Remember to install an elegant yet strong cooker hood to prevent cooking odors from spreading to and settling in your entire living room.
Choose spacious and functional cupboards in the kitchen to avoid creating clutter on the countertop.
Suggestions for an Open Kitchen Complementing the Living Room
The furniture and equipment you are going to install in your kitchen will directly impact the living room decoration. That's why it is important to make sure these two rooms complement each other aesthetically.
If you are looking for modern and elegant kitchen and living room decoration ideas, take a look at these suggestions:
If you do not have sufficient room in your living room for a dining table, you may opt for a kitchen island with integrated cupboards and drawers. This will give you an extra storage area, a countertop, and a dining table all in one.
Since the open kitchens are virtually in the living room, even a small amount of clutter may look worse than it is. As such, you may want to avoid leaving things on the countertop. Purchase a cupboard or countertop organizer, which also works as an accessory, to keep loose items tidy.
Remember that the electronic appliances in your kitchen will also be accessories in your living room. You may choose appliances in lighter colors to achieve a flowing look throughout the entire space.
Finally, ensure to choose the latest technology Kastamonu Entegre countertops, which are humidity-, heat-, scratch-, shock-, and wear-resistant. These durable countertops come in a range of patterns and colors to suit your kitchen perfectly.