Decoration Ideas for Closed Balconies
A balcony that overlooks the sea, forest, or other houses will be the perfect addition to your living space if organized well. Closed balconies may be the perfect hideouts for small breaks or for hosting friends with the simple addition of a comfortable couch, small wooden coffee tables, and some appropriate lighting. Additionally, you can decorate your balcony entirely separately from the rest of your house. For instance, you can decorate your closed balcony like an outdoor area and have the perfect summer area once you open all of the glass windows. Check out our tips for creating a pleasant balcony atmosphere, no matter its size.
How to Decorate a Closed Balcony?
There are many things to consider when decorating your balcony. The first is the limited space. A balcony is often no larger than a couple of square meters, which requires careful planning from flooring to furniture. What would you like to do on your balcony? How many people must it hold? What is your preferred style? Find the answers to such questions to make the best out of your balcony and create your dream space.
First, choose a flooring option to start decorating your closed balcony. You may opt for laminate flooring to create a warm and friendly atmosphere on your balcony. This will allow you to reflect the ambiance of your home on your balcony. Laminate flooring comes in a range of colors and is perfect for closed balconies as it is easy to install. It is also easy to clean and goes well with almost all styles. It will blend well with your plants, wooden furniture, and lighting.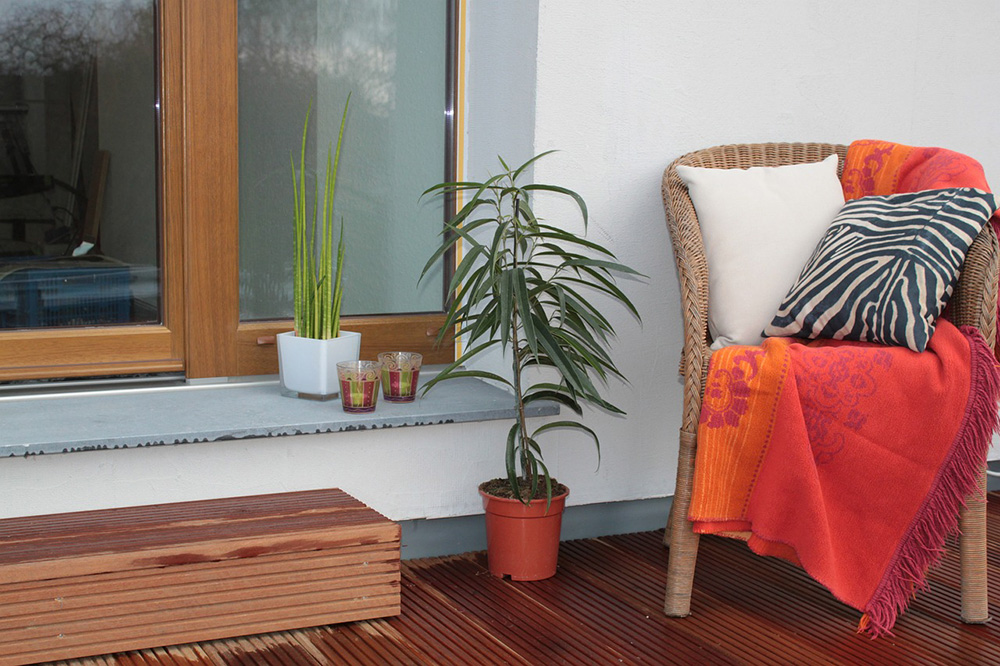 How to Decorate Smaller Closed Balconies?
The key point in decorating smaller closed balconies is the effective use of space. The smaller space should be decorated with suitable seating furniture, coffee table, or poufs. The first step is to decide what you want to do with your balcony. This will help you identify your concept, ideal flooring, suitable furniture, and accessories. You may also use your balcony to grow vegetables or to enjoy a cup of coffee with friends. Choose functional chairs, poufs, or cushions that are smaller in size, and opt for foldable tables or coffee tables. These will create both a functional and aesthetically pleasing balcony. If you're looking for plants in smaller closed balconies, opt for ceiling hangers or, if possible, use the railing. Setting up lighting from various corners will also create the illusion of a larger and more spacious balcony.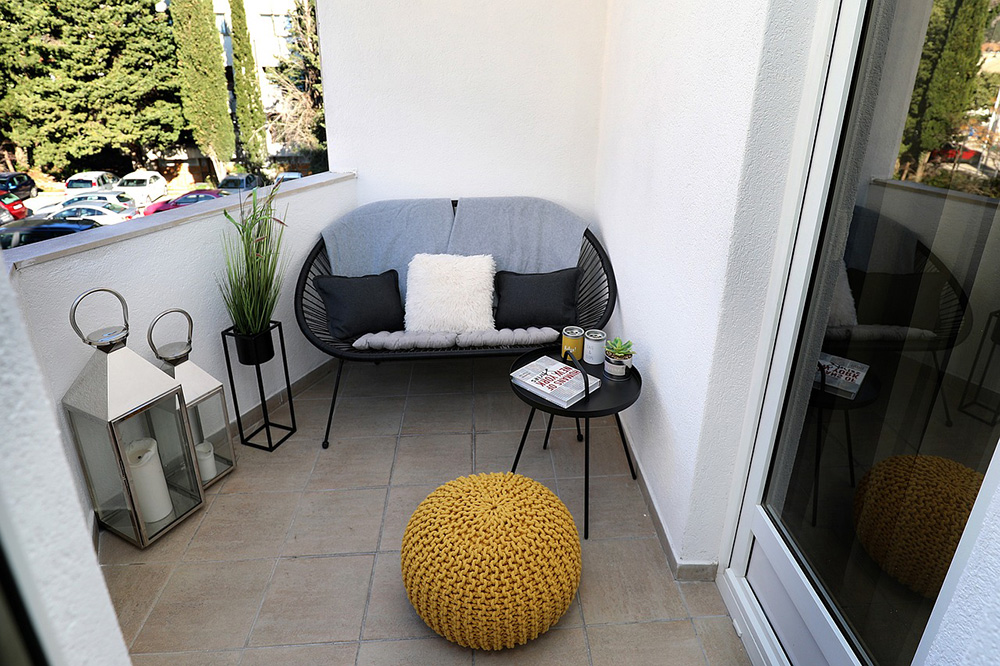 Functional Decoration in Closed Balconies
Closed balconies may be in rustic, modern, retro, industrial, or bohemian styles, regardless of the dominant style in the rest of the house. So, feel free to take inspiration from any closed balcony decoration ideas that appeal to your taste. For instance, modern balcony decorations often incorporate Scandinavian furniture, lighting, and flooring. While Scandinavian is similar to rustic, it is considered more modern-looking. Additionally, natural wood can be combined with laminate flooring. Consider that white and other lighter-shaded furniture will make your balcony appear larger. Modern closed balconies, on the other hand, often feature many plants, include a nice dining table, and make for a great Sunday brunch experience. In short: functionality and elegance are both significant in closed balcony decoration.
If your balcony is rectangular-shaped, you may place chairs on both sides and add a long coffee table in between. Choose angular furniture for a rectangular balcony. This will blend the furniture into the environment and help create a more natural appearance. Oval-shaped and circular balconies, on the other hand, are often ideal in size and can be made into a dining room with a circular table and chairs. You may even set up a small television, depending on the size of the balcony, to create a backup family room. You can open the windows all the way in summer to enjoy the nice evening breeze, and close them up to watch the snow fall from within the warmth of your home during winter. Another alternative would be to choose soft lighting to set up bookshelves. This would turn your tiny balcony into a reading nook.
Explore our decoration ideas for closed balconies to transform your balcony, and decorate with the warmth of indoors with our laminate flooring products.